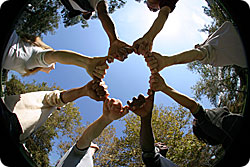 The world of advertising is an expensive one. Presently, LOA is a small company (movement, if you will) trying to penetrate an arena where corporations with huge advertising budgets predominate. So...
LOA is starting small, placing ads in local papers, circulars, and the internet. Billboards, magazines, and radio are next followed by the most expensive and arguably the most impactful medium, television.
You can bypass the consumer aspect of LOA and donate directly to the LOA ADFUNd. The ADFUNd is set aside solely for the purpose of creating and purchasing LOA advertisements that, of course, communicate LOVE ONE ANOTHER.
If every household in the U.S. donated a dollar for every member in that home, LOA would have a more than 285-million dollar ADFUNd to constantly remind Americans to LOVE ONE ANOTHER.
Pie in the sky? Not at all, with Love, anything is possible.
LOA is a global aspiration so donations from outside the U.S. are greatly appreciated and respected.
Please donate to the ADFUNd.
Click LOArt to see LOA advertisements.